Its A Friday Hove 'Double' For Norah!
FRIDAY HOVE REPORT
Friday 2nd August 2019 – HOVE Report
WINNERS
NUKE DAISY won twice in April beating the Claude Gardiner trained Gemini Spirit by just over two lengths in A6 grade on the 5th and by beating the Jamie Kingsley trained Thischapsinwork by just over two lengths on the 26th! The September 16 daughter of Droopys Jet has been well beaten in most of her runs since but bounced back to form in the B1 at 10-51 today! Sent off a 6/1 chance she was always handy and leading at the 4th bend stayed on well to beat the Jason Heath trained Seasons Tornado by almost three lengths! Owned by Jimmy Pursey 'Nuke Daisy' clocked 29.12 (-10) 29.02 calculated when winning for the 8th time at Hove.
~~~~~~~~~~~~~~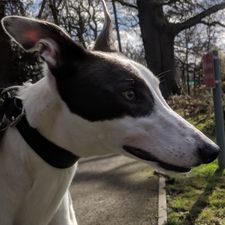 SUMMERVILLE BOY   –   his 6th win for Norah's Racing Club!
SUMMERVILLE BOY became the Norah Mac Racing Clubs 200th winner when he led on the run-in to beat the Maria Collins trained Thunder Ted by just over a length in B5 grade on the 16th July! Despite running well to finish two lengths behind Fagans Fiasco up in grade last time he was made an 8/1 chance for the B4 at 11-36. But the January 16 son of Taylors Sky defied those odds when leading near the line to beat the Claude Gardiner trained Clairkeith Bonny by a head! Owned by the Norah Mac Racing Club 'Summerville Boy' clocked 29.85 (-10) 29.75 calculated when winning his 6th race for the Club taking their total number of winners to 203.
Kennel mate BALLYSTEEN SKY was a 9/2 chance but he was baulked at the 1st bend! Clocking 30.39 (-10) 30.29 calculated he finished in 6th place beaten just under seven lengths by the winner.
~~~~~~~~~~~~~~
Our Runners Who Made The Frame
A 6/1 shot for the D2 Sprint at 11-21 SIZZLERS SPRING held every chance and clocking 16.94 (-5) 16.89 calculated she finished in 3rd place beaten just under two lengths by Lookbehindyou.
SUMMERVILLE KATE was sent off a 7/2 chance for the B2 at 1-57 and after suffering a 'rough' journey she did well to finish in 3rd place! Baulked at the 1st bend and crowded at the 2nd 'Summer' clocked 29.77 (-10) 29.67 calculated when beaten just under three lengths by Hewhodares.
~~~~~~~~~~~~~~~~~~~~~~~~~~~~~~~~~~~~~~~~~~~~~~~~~~~~~~~