Central Park Report And Monday Trials!
SUNDAY CENTRAL PARK REPORT
Sunday 10th September 2017  –  CENTRAL PARK Report
Central Park      8-11      642 Metres Flat Flat  (OR)                                          RESULT
THE CENTRAL PARK STAYERS                                                             Going:  Normal
1st £250,  Others £50
1st   RIO SAN MARINO                    40.10         Mr D. C. Riordan  (Henlow)                1/2 fav
2nd  DRAGON OVERLORD         41.03         Miss N. E. M. McEllistrim  (Hove)     20/1
3rd   WHONEEDS CHARITY          41.06          Mr S. A. Cahill  (Hove)                          12/1
Distances:   11 1/2,  Neck
DRAGON OVERLORD picked up an injury when finishing just under eight lengths behind Insane George in a Central Park Open on the 30th July. Rested for six weeks the July 14 son of Tullymurry Act owned by the Executors of the late Joe Yelding returned to the Kent track for the STAYERS OPEN at 8-11. Stepping up to 642 metres for the first time he was made a 20/1 shot but the race turned into a 'messy' affair as all six dogs found trouble at the first bend! Bang On Giles came off worse from this incident and was a faller but 'Dragon' kept on and although beaten over eleven lengths he clocked 41.03 (Normal) when finishing in 2nd place! The race was won by Danny Riordan's talented stayer Rio San Marino but Dragon Overlord will improve from this come back run!
~~~~~~~~~~~~~~~~~~~~~~~~~~~~~~~~~~~~~~~~~~~~~~~~
MONDAY HOVE TRIALS
Monday 11th September 2017  –  HOVE Trials
515 Metres Flat
BALLYSTEEN SKY
SUMMERVILLE BOY
OBEY THE RULES
285 Metres Flat
RISING ROCKET
ROSEGARLAND MOJO
DERRYADD MARLEY
TIMBERLEE LASS
SIZZLERS THUNDER
REDSTAR POPPY
MOANTEEN DEXTER 
AEGEAN FLASH
DROMANA HERO
~~~~~~~~~~~~~~~~~~~~~~~~~~~~~~~~~~~~~~~~~~~~~~~~
Update On DEZZIE In Bermuda!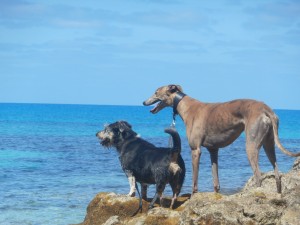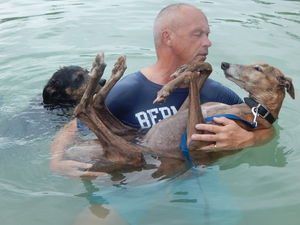 Ex Norah Mac Racing Club greyhound Droopys Design (Dezzie) who was re-homed by our Bermudan based owners Lisa and Lee Beauchamp has actually learned to swim this summer!  Lisa reports "Although 'Dezzie' can now swim he prefers to be held and swayed but he just loves to play on the beach and in the sea with his best friend Bailey".
Lisa and Lee were watching live from the 'Seahorses' Betting shop, which Lee manages in the Bermudan capital Hamilton, as their Ballysteen Star was beaten just a 'head' by our Dave Staddon owned kennel mate Front Step at Hove yesterday! 
~~~~~~~~~~~~~~~~~~~~~~~~~~~~~~~~~~~~~~~~~~~~~~~~