Ease In Grade Is Ideal For Daisy & Holly
FRIDAY HOVE REPORT
Friday 26th April 2019 – HOVE Report
WINNERS
'NUKE DAISY' WINS FOR THE 7th TIME AT HOVE!
NUKE DAISY was quick away and always led when beating the Claude Gardiner trained Gemini Spirit by just over two lengths in A6 grade on the 5th April! Beaten in A3 grade last time the September 16 daughter of Droopys Jet appreciated the ease in class today and was sent off the 5/2 joint-favourite for the A4 at 1-07. Showing good early pace she led at the 2nd bend and keeping on well beat the Jamie Kingsley trained Thischapsinwork by just over two lengths! Owned by Jimmy Pursey 'Nuke Daisy' clocked 30.52 (-10) 30.42 calculated when winning for the 7th time at Hove.
~~~~~~~~~~~~~~~~~~~~~~
IT'S AN 8th HOVE WIN FOR CLOMANTAGH HOLLY!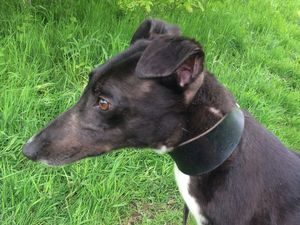 CLOMANTAGH HOLLY – raced clear to win by over 5 lengths!
CLOMANTAGH HOLLY was always handy and leading at the 3/4 mark she held on well to beat the Jason Heath trained Ballymac Barnes by a head on the 6th February! She has since been on the side-lines through sickness but returned in mid-April to finish 4th in B3 grade. Given a drop in class for the B4 at 1-22 the April 15 daughter of Mall Brandy was sent off the 6/4 favourite! Quick away she led to the 2nd bend! After leading again at the 3rd bend 'Holly' raced clear to beat the Maria Collins trained Abbeybelucky by just over five lengths! Owned by Trevor Absolom 'Clomantagh Holly' clocked 29.79 (-10) 29.69 calculated when winning her 8th race at Hove!
~~~~~~~~~~~~~~~~~~~~~~
Our Runners Who Made The Frame
SHANEBOY EZRA made her challenge from the 4th bend and looked the likely winner of the A6 at 12-36. But clocking 30.90 (-10) 30.80 calculated she finished in 2nd place beaten a 'neck' when caught on the line by Bethanys Bullet. Kennel mate FRONT STEP ran on well to finish in 3rd place and she clocked 30.91 (-10) 30.81 calculated when beaten just 1/2 a length by the winner!
After showing good early pace POWER MARY was always handy in the D3 Sprint at 1-37. Finishing in 2nd place she clocked 17.01 (-5) 16.96 calculated when beaten just 3/4 of a length by Mercury Dream.
~~~~~~~~~~~~~~~~~~~~~~~~~~~~~~~~~~~~~~~~~~~~~~~~~~~~~~~~~~~