'Fanore Flyer' Is Back To Winning Ways!
WEDNESDAY HOVE REPORT
Wednesday 10th July 2019 – HOVE Report
WINNERS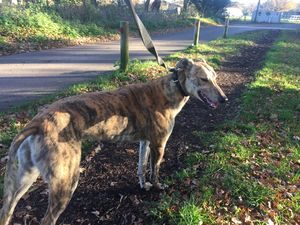 FANORE FLYER  –  His 16th Win at Hove!
FANORE FLYER picked up an injury when finishing 2nd to Glenbowen Val on the 11th May and he spent almost two months resting! The April 15 son of Vans Escalade was 5th behind Gin Garden on his return on the 3rd July and was sent off a 4/1 chance for the D2 Sprint at 2-12 today! Leading at the 2nd bend he kept on well to beat the Ken Tester trained Punk Rock Poet by almost two lengths! Owned by Steve Keay 'Fanore Flyer' clocked 17.02 (-20) 16.82 calculated when winning for the 16th time at Hove!
~~~~~~~~~~~~~~~~~~~~~~
FOLLOW-UP WIN FOR MALLOGS ANGEL!
MALLOGS ANGEL got off the mark at Hove in early June when staying on nicely to beat the Jason Heath trained Riverside Prince by half a length! The March 17 daughter of Vans Escalade was on the mark again later in the month beating the Maria Collins trained Racenight Elsa by two lengths! Continuing the good form she followed up in fine style in the A7 at 6-19. Sent off a 6/1 chance she was quick away and always led when beating the Wayne Wrighting trained Jiggerypokery by just over a length! Owned by Jonathan Muller 'Mallogs Angel' clocked 31.14 (-30) 30.84 calculated when winning her 3rd race at Hove!
~~~~~~~~~~~~~~~~~~~~~~
Our Runners Who Made The Frame
A 4/1 chance for the B2 at 4-29 SUMMERVILLE KATE was badly baulked at the 1st bend! Clocking 30.14 (-30) 29.84 calculated she finished in 3rd place beaten just under six lengths by Gemini Belle.
~~~~~~~~~~~~~~~~~~~~~~~~~~~~~~~~~~~~~~~~~~~~~~~~~~~~~~~~~~