A Friday Hove "Double" For Team Mac!
FRIDAY HOVE REPORT
Friday 5th April 2019 – HOVE Report
WINNERS
'NUKE DAISY' BLASTS BACK TO FORM!
NUKE DAISY was quick away and always led when beating the Richard Yeates trained Pink Rose by just under two lengths on the 19th February but she has been unable to make an impact in five runs since! Sent off a 3/1 chance for the A6 at 10-36 the September 16 daughter of Droopys Jet was always in command and returned to winning ways in style! Quick away she always led when beating the Claude Gardiner trained Gemini Spirit by just over two lengths! Owned by Jimmy Pursey 'Nuke Daisy' clocked 30.63 (-20) 30.43 calculated when winning for the 6th time at Hove.
~~~~~~~~~~~~~~~~~~~
11 HOVE WINS FOR SIZZLERS OLLY!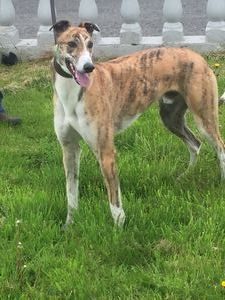 SIZZLERS OLLY  –  Winning favourite!
SIZZLERS OLLY led on the run-in to beat the Allison Kelly-Pilgrim trained Deanridge Ivan by 3/4 of a length in a Heat of the Kent Silver Salver competition at Central Park on the 17th March. Beaten in two Open runs since the June 16 son of Droopys Jet returned to graded company for the D1 Sprint at 12.54. Sent off the 7/4 favourite he always led when beating the Wayne Wrighting trained Droopys Max by a length and a half! Owned by the late Dave Cook and Joy Cook 'Sizzlers Olly' clocked 16.54 (-10) 16.44 calculated when winning his 11th race at Hove!
~~~~~~~~~~~~~~~~~~~
Our Runners Who Made The Frame
CALS MADISON showed good early pace in the A8 at 11-06 and despite crowding at the 3/4 mark he led to near the line! Clocking 31.08 (-20) 30.88 calculated he finished in 2nd place beaten just a 'short-head' by Roses Kate.
Running on well in the A7 at 11-21 FRONT STEP finished in 2nd place clocking 30.90 (-20) 30.70 calculated when beaten a 'neck' by Ower Girl Misty.
SUMMERVILLE KATE was crowded at the 1st bend and again on the run-in when finishing 3rd in the B1 at 11-36. Clocking 29.59 (-20) 29.39 calculated she was beaten two and a half lengths by Punk Rock Gigi.
TOKYO JOE was quick away in the B2 at 12-36 but he was baulked at the 1st bend! Despite the hold up he finished in 2nd place clocking 29.78 (-20) 29.58 calculated when beaten just over three lengths by Warnham Sky.
After showing good early pace in the A11 at 1-07 SHOWBOAT ANNIE was baulked at the 2nd bend! Recovering well she challenged from the 4th bend when finishing in 3rd place and clocked 31.83 (-20) 31.63 calculated when beaten just a length by Kylegrove Grace.
~~~~~~~~~~~~~~~~~~~~~~~~~~~~~~~~~~~~~~~~~~~~~~~~~~~~~~~~~