A Friday Hove 'Treble' For Team Mac!
FRIDAY HOVE REPORT
Friday 3rd May 2019 – HOVE Report
WINNERS
"ROSEGARLAND JEDI" HAS WON THREE OF HIS LAST SIX RACES!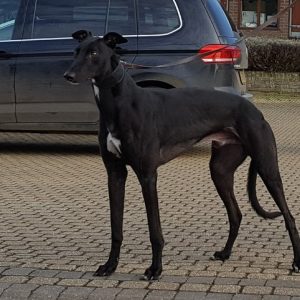 ROSEGARLAND JEDI – his 10th win at Hove!
ROSEGARLAND JEDI beat the Derek Knight trained Hovex Dunk by a 'neck' at the end of March and he added to that success when running on strongly to beat the Seamus Cahill trained Power Ranger by just over six lengths in B1 grade in April! Sent off the 6/4 favourite for the B1 at 10-51 the November 15 son of Scolari Me Daddy made it 3 wins from his last 6 runs when leading at 1/2 way he beat the Jason Heath trained Droopys Court by one and a half lengths! Owned by Anthony O'Shaughnessy, Mike Owens and Ivor Stocker 'Rosegarland Jedi' clocked 28.70 (Normal) when winning his 10th race at Hove!
~~~~~~~~~~~~~~~~~~~~
FOURTH WIN OF THE YEAR FOR BALLYSTEEN SKY!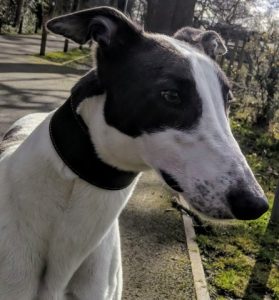 BALLYSTEEN SKY – His 9th Win for the Racing Club!
A winner 'twice' in January BALLYSTEEN SKY was always handy and stayed on well to beat Maria Collins trained Dualla Whitetip by just over a length in A11 grade on the 22nd February! Finishing 2nd on his last two runs the January 16 son of Taylors Sky was made an 8/1 chance for the B3 at 11-52. Despite making a slow start he ran on well to beat the Seamus Cahill trained Wheres Nicki by a short-head! Owned by the NORAH MAC RACING CLUB 'Ballysteen Sky' clocked 29.78 (Normal) when winning for the 9th time at Hove and moves the Racing Club onto the 192 winner mark!
~~~~~~~~~~~~~~~~~~~~
"DROOPYS ROXY" CONTINUES TO CLIMB THE GRADES WITH A5 WIN!
DROOPYS ROXY got back to winning ways when beating the Jason Heath trained Riverside Prince by just over a length in A9 grade on 10th April! Up in grade for an A8 six days later the September 15 daughter of Tullymurry Act followed-up that success when beating the Claude Gardiner trained Southdowns Daisy by a short-head! Although finding herself in A5 grade for her next two runs she finished runner-up both times! A 4/1 shot for the A5 at 1-07 'Roxy' had it all to do after making a slow start! But finishing well she got up to beat the Wayne Wrighting trained Timetogohome a head!  Owned by Mr A. Banks, Mr D. Franklin, Mr D. Gray & Norah McEllistrim 'Droopys Roxy' clocked 30.78 (Normal) when winning for the 8th time at Hove!
~~~~~~~~~~~~~~~~~~~~
Our Runners Who Made The Frame
SUMMERVILLE KATE was quick away in the B2 at 1-22 but baulked at the 1st bend she clocked 29.86 (Normal) when finishing in 2nd place beaten just under six lengths by Joyita. Kennel mate ANOTHER ME suffered crowding at the 1st bend and he was baulked at the 1/4 mark! Finishing in 3rd place 'Monty' clocked 29.93 (Normal) when beaten six and a half lengths by the winner.
~~~~~~~~~~~~~~~~~~~~~~~~~~~~~~~~~~~~~~~~~~~~~~~~~~~~~~~