'Joe' Beats Monty For Kennel One-Two!
FRIDAY HOVE REPORT
Friday 8th March 2019 – HOVE Report
WINNER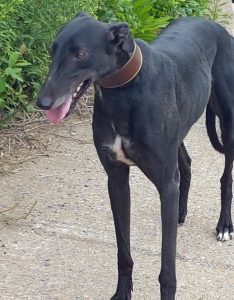 TOKYO JOE – his 10th Hove win!
TOKYO JOE opened his account for the year when beating the Tony Taylor trained Carraig Molly by two and a half lengths in D2 grade on the 23rd February! Sent off 3/1 joint-favourite for the D2 Sprint at 5-08 the October 15 son of Rio Quattro added to that success by beating his kennel mate 'Monty'. Quick away 'Tokyo Joe' always led and beat Another Me by just over two lengths! Owned by Jonathan Muller 'Tokyo Joe' clocked 16.71 (Normal) when winning his 10th race at Hove! ANOTHER ME was also a 3/1 joint-favourite and running on well he clocked 16.89 (Normal) when taking 2nd place!
~~~~~~~~~~~~~~~~~~~~~
Our Runners Who Made The Frame
SUMMERVILLE KATE was quick away and led to the 4th bend in the A9 at 2-12. Finishing in 2nd place she clocked 30.99 (Normal) when beaten just a 'neck' by Headway Simba.
Quick away in the A5 at 3-49 NUKE DAISY led to near the line and clocking 30.83 (Normal) she finished in 2nd place beaten 1/2 a length by Thischapsinwork.
~~~~~~~~~~~~~~~~~~~~~
FRIDAY HOVE TRIALS
285 Metres Flat                               Going:  Normal
BALIBO BONNIE        1-1- 1st   3¼   Always Led, Wide Run In     16.85
MY SPICE                  2-2- 2nd   3¼   Wide, Every Chance     17.11
~~~~~~~~~~~~~~~~~~~~~~~~~~~~~~~~~~~~~~~~~~~~~~~~~~~~~~~~~~~~~~