'Oxted Flyer' Gets Up Just In Time Today!
WEDNESDAY HOVE REPORT
Wednesday 13th September 2017  –  HOVE Report
WINNERS
OXTED FLYER takes a little time to warm up in his races but he always does his best work at the finish! Running on well he was beaten just 3/4 of a length when 3rd to Zari Bunny last time and the June 15 son of Droopys Cain was a 4/1 chance for the A6 at 2-27. Although he suffered crowding at the 1st bend he timed it just right today when running on strongly to beat the Wayne Wrighting trained Jems Bullet by a short-head! Owned by Mr D. Barnett, Mr P. Erwood, Mr C. Richards and Mr D. Wilson Oxted Flyer clocked 30.65 (-10) 30.55 calculated when winning his 3rd race at Hove!
~~~~~~~~~~~~~~~~~~~~~~~~~~
AND SO DOES ASSERT!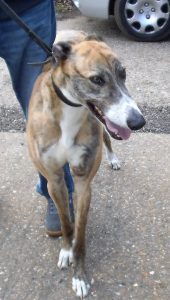 ASSERT  –  7th win at Hove!
ASSERT very rarely gets away smartly but the July 14 son of Skywalker Ace is always a strong finisher! Very slow away he ran on well to finish 3rd beaten just 1/2 a length by Slippery Jules on his latest start and was sent off a 4/1 shot for the A10 at 3-48. Again slow away he was baulked at the 2nd bend but running on well he beat the Wayne Wrighting trained Champagne Maura by a head! Owned by Diane Benson Assert clocked 31.19 (-10) 31.09 calculated when winning for the 7th time at Hove!
~~~~~~~~~~~~~~~~~~~~~~~~~~
'AEGEAN DELIGHT' MAKES IT A TREBLE!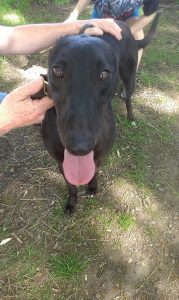 AEGEAN DELIGHT –  back to winning ways!
AEGEAN DELIGHT was off the track for almost three months but the August 14 daughter of Colorful Champ returned from seasonal rest to finish 5th beaten just over four lengths by Tyrur Jasmine  last Saturday! A 5/1 chance for the D2 Sprint at 5-07 she showed good improvement for that run and keeping on well led on the run in to beat the Tony Taylor trained Brinkleys Bobdog by 1/2 a length! Owned by Nic Brereton and Ian Farminer Aegean Delight clocked 16.86 (-5) 16.81 calculated when winning her 8th race at Hove!
~~~~~~~~~~~~~~~~~~~~~~~~~~
How Our Other Runners Fared
SIZZLERS APOLLO was a 3/1 chance for the D1 Sprint at 4-08 but the September 13 son of Droopys Scolari was slow away and clocking 16.90 (-5) 16.85 calculated he finished in 5th place beaten just under three lengths by Stellars Avenger who is trained by Maria Collins.
DROOPYS TEQUILA was sent off the 5/2 favourite for the A8 at 4-47 but the September 13 daughter of Droopys Scolari suffered crowding at the 1st bend! Clocking 31.26 (-10) 31.16 calculated she finished in 4th place beaten just under six lengths the Jason Heath trained winner Romeo Speedster.
AVIT ON DORIS was a 7/2 shot for the A7 at 5-22 and the March 14 daughter of Shaneboy Spencer held every chance when finishing in 2nd place. Clocking 30.63 (-10) 30.53 calc 'Doris' was beaten three lengths by Aegean Razl who is trained by Richard Rees.
BALIBO MAGS was a 7/2 chance for the A6 at 5-38 where the July 14 daughter of Razldazl Rioga owned by the Norah Mac Racing Mags syndicate showed good early pace and disputed the lead! Pipped on the line 'Mags' clocked 30.90 (-10) 30.80 calculated when finishing in 2nd place beaten just a 'head' by the Seamus Cahill trained winner Ballymac Pod.
~~~~~~~~~~~~~~~~~~~~~~~~~~~~~~~~~~~~~~~~~~~~~~~~