'Roxy' And 'Sky' Double-Up For Norah!
SATURDAY HOVE REPORT
Saturday 13th July 2019 – HOVE Report
WINNERS
"DROOPYS ROXY" LEADS HOME A 1-2 FOR TEAM MAC!
DROOPYS ROXY beat the Wayne Wrighting trained Timetogohome by a head in A5 grade on the 3rd May but she picked up an injury after finishing 4th behind Tyrap Queen later that month! Beaten a length by Boherash Angel in a three-dog trial over 490 metres on Tuesday the September 15 daughter of Tullymurry Act was made an 8/1 chance on her return for the B3 at 7-33. Slow away 'Roxy' led at the 4th bend and keeping on well beat kennel mate Sizzlers Gunboat by almost three lengths! Owned by Mr A. Banks, Mr D. Franklin, Mr D. Gray & Norah McEllistrim 'Droopys Roxy' clocked 29.30 (+10) 29.40 calculated when winning for the 9th time at Hove! SIZZLERS GUNBOAT was a 7/2 chance and he led from the 3rd bend to the 4th! Finishing in 2nd place he clocked 29.53 (+10) 29.63 calculated when beaten just under three lengths by the winner.
~~~~~~~~~~~~~~~~~~~~~~
'BALLYSTEEN SKY' PUTS "RACING CLUB" ON 199 WINNER MARK!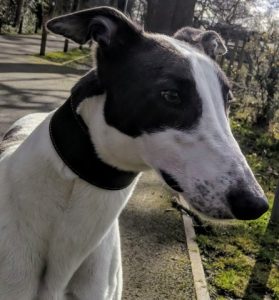 BALLYSTEEN SKY – His 10th Win for the Racing Club!
BALLYSTEEN SKY was last successful when running on well to beat the Seamus Cahill trained Wheres Nicki by a short-head on the 3rd May. After a run of defeats the January 16 son of Taylors Sky was beaten less than a length when finishing a fair 2nd to Wycombe Lady on Tuesday! Sent off a 9/4 fancy for the B5 at 8-53 he returned to winning ways! Although crowded at the 2nd and 3rd bends he ran on well to beat the Tony Taylor trained Four Little Legs by a short-head! Owned by the NORAH MAC RACING CLUB 'Ballysteen Sky' clocked 30.17 (+10) 30.27 calculated when winning for the 10th time at Hove and moves the Racing Club onto the 199 winner mark!
~~~~~~~~~~~~~~~~~~~~~~
Our Runners Who Made The Frame
MALLOGS ANGEL was a 7/1 chance for the A6 at 8-21 and after making a slow start she did well to finish in 3rd place! Clocking 30.86 (+10) 30.96 calculated she was beaten five and a half lengths by Waste House Arc.
~~~~~~~~~~~~~~~~~~~~~~~~~~~~~~~~~~~~~~~~~~~~~~~~~~~~~~~~~