'Scart Alice' Wins On Her Club Debut!
TUESDAY HOVE REPORT
Tuesday 28th July 2020 – HOVE Report
WINNERS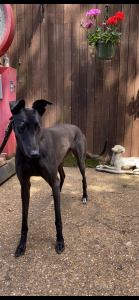 Recently added to the Norah Mac Racing Club SCART ALICE got off the mark at Hove on her first run for the Club! A fair 2nd behind Fletchwood Molly on her latest run the October 17 daughter of Holdem Spy was sent off a 5/1 chance for the A11 at 5-44. Despite suffering crowding at 1/2 way 'Alice' led near the line to beat the Jamie Kingsley trained Mellys Majestic by a head! Owned by the Norah Mac Racing Club 'Scart Alice' clocked 30.48 (+10) 30.58 calculated when winning her 1st race at Hove and moving the Clubs total to 212 winners!
~~~~~~~~~~~~~~~~~~~~~~~~
MALLOGS ANGEL has not had much luck in her three races since lockdown but the March 17 daughter of Vans Escalade returned to winning ways in the A7 at 6-02. Sent off a 6/1 chance she ran on well to lead on the run in and beat the Stuart Maplesden trained Everton Mias by almost two lengths! Owned by Jonathan Muller 'Mallogs Angel' clocked 30.05 (+10) 30.15 calculated when winning for the 5th time at Hove!
~~~~~~~~~~~~~~~~~~~~~~~~
Our Runners Who Made The Frame
A 4/1 chance for the A5 at 3-11 DUNAGHY PANDA ran on well to finish in 3rd place after being crowded at the 3rd bend. Clocking 29.99 (Normal) he was beaten just 3/4 of a length by the Jason Heath trained winner Regeva Smiler.
Sent off a 4/1 chance for the A4 at 5-28 LAUGHIL KATE showed good early pace and led to near the line! Finishing in 2nd place she clocked 29.89 (+10) 29.99 calculated when beaten just 1/2 a length by Dognor Roxie who is trained by Stuart Maplesden.
~~~~~~~~~~~~~~~~~~~~~~~~~~~~~~~~~~~~~~~~~~~~~~~~~~~~~~