It's A 10th Hove Win For Chain Lighting!
TUESDAY HOVE REPORT
Tuesday 8th October 2019 – HOVE Runners
WINNER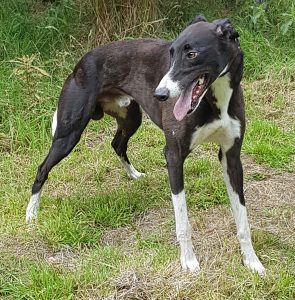 CHAIN LIGHTING  –  wide margin winner today!
CHAIN LIGHTING led all the way when beating the Alma Keppie trained Nobodys Sidney by three and a half lengths in a D1 Sprint on the 30th July! Sent off the 5/4 favourite for the A2 at 2-32 today the June 16 son of Droopys Jet ended a nine race losing run in great style! Showing good early pace he led at the 1st bend and stayed on strongly to beat the Stuart Maplesden trained Cappakeel Polly by almost five lengths! Owned by Jonathan Muller and Norah McEllistrim 'Chain Lighting' clocked 30.62 (-20) 30.42 calculated when winning his 10th race at Hove!
~~~~~~~~~~~~~~~~~
Our Runners Who Made The Frame
A 7/1 chance for the D2 Sprint at 3-49 BALLINTINE PATCH was slow away and crowded at 1/2 way! Finishing in 3rd place she clocked 17.10 (-10) 17.00 calculated when beaten just over two lengths by Total Marble. Kennel mate ANOTHER ME found 'trouble' in running and was a further six lengths back in 5th place.
PAISLEY PARK was a 9/2 shot for the D1 Sprint at 5-44 where he finished close up in 2nd place! Running on well he challenged from the 2nd bend and clocking 16.66 (-5) 16.61 calculated failed by just a 'neck' to catch race winner Knockmant Wonder.
~~~~~~~~~~~~~~~~~~~~~~~~~~~~~~~~~~~~~~~~~~~~~~~~~~~~~~~~~