Wednesday Hove 'Double' For Norah!
WEDNESDAY HOVE REPORT
Wednesday 28th August 2019 – HOVE Report
WINNERS
10/1 OUTSIDER "AFTER SHOCK" SPRINGS A SURPRISE!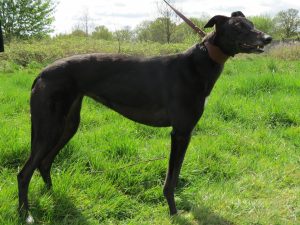 AFTER SHOCK – her 12th Win at Hove!
AFTER SHOCK led all the way when beating the Jamie Kingsley trained Zenyatta by a short-head in A9 grade way back in February! She has only raced seven times since but the April 15 daughter of Superior Product was well beaten on each occasion. Sent off the 10/1 outsider for the D2 Sprint at 2-32 'Annie' returned to winning ways! Quick away she always led when beating the Stuart Maplesden trained Newros Holly by two and a half lengths! Owned by Julie Hillier, Gaynor Renwick and Dave Staddon 'After Shock' clocked 16.95 (-15) 16.80 calculated when winning her 12th race at Hove!
~~~~~~~~~~~~~~~~~~~~~
HOVE 'HAT-TRICK' FOR THE IN-FORM DROOPYS ROXY!
The in-form DROOPYS ROXY ran on strongly to beat the Seamus Cahill trained Caterham Rocker by 1/2 a length in B3 grade on the 17th August. Continuing in excellent form the September 15 daughter of Tullymurry Act followed up in great style when running on well to beat the Seamus Cahill trained Ballybough Gary by just over a length in a B2 last Friday! Sent off a 7/1 chance for the B2 at 4-09 she completed the 'hat-trick' in spectacular fashion! Slow away and virtually tailed off she sliced through the field and leading near the line beat the Derek Knight trained Comeonyouspurs by 3/4 of a length! Owned by Mr A. Banks, Mr D. Franklin, Mr D. Gray & Norah McEllistrim 'Droopys Roxy' clocked 29.48 (-20) 29.28 calculated when winning for the 13th time at Hove!
~~~~~~~~~~~~~~~~~~~~~
Our Runners Who Made The Frame
A 14/1 chance for the B1 at 3-29 SUMMERVILLE KATE was slow away and baulked at the 3rd bend! Finishing in 3rd place she clocked 29.66 (-30) 29.36 calculated when beaten just over three lengths by Punkrock Banshee.
Sent off the 5/4 favourite for the B5 at 4-48 BALLYSTEEN SKY held every chance and clocking 29.84 (-20) 29.64 calculated he finished in 2nd place beaten three lengths by Wheres Nicki.
~~~~~~~~~~~~~~~~~~~~~~~~~~~~~~~~~~~~~~~~~~~~~~~~~~~~~~~~~