Norah – Working For Her Dad 'Paddymac'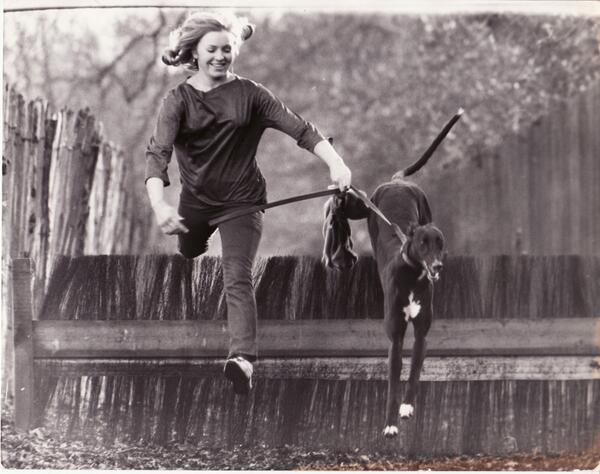 A young Norah teaches greyhound 'NORAHS FIRST' (Joey) the art of hurdling
                                  HOW IT ALL BEGAN   –     PADDY McELLISTRIM
Paddy McEllistrim was one of the sports original trainers when greyhound racing got underway in 1927. He transported dogs across from Ireland (including Mick The Miller) but then decided to train the hounds himself. The man from Ballymacelligott,  near Tralee in County Kerry known as 'Paddymac' joined Wimbledon shortly after Stanley Biss, Harry Leader and Ken Appleton and would train at Wimbledon for the next 47 years until his daughter Norah took over the kennels. Paddy was always a big fan of hurdlers and concentrated training many in his kennels over the timber. Two Classic successes were sealed in 1928 & 1929 and his favourite Classic the Grand National was finally won in 1947 when Baytown Pigeon was victorious at odds of 25/1. Incredibly Paddy was to win the St Leger 41 years after his previous St Leger title. Paddy McEllistrim called it a day in 1974 handing control of the kennel to his daughter Norah.
Major Achievements
St LEGER                        1929   Loughnagare,     1970   Spotted Rory
SCURRY GOLD CUP   1928    Cruseline Boy,   1945    Country Life
PUPPY DERBY              1930   Mountain Loafer
THE OAKS                      1930    Faithful Kitty
GRAND NATIONAL      1947    Baytown Pigeon
        PADDYMAC  to NORAHMAC!     NORAH HAS DONE HER FATHER PROUD
Like her father Norah has always loved her 'hurdlers' and has won the English Grand National twice, the Scottish Grand National and the Springbok three times. Paddy would be proud of his daughters success! Norahs big race jumping winners so far:-
Grand National – White City
1981   BOBCOL,       1982  FACE  THE  MUTT 
Springbok  –  Wimbledon
1980   BOBCOL,      1985  KNIGHT  OF  RAFT,     1990  RANGER  SUPREME
Scottish Grand National  –  Powderhall
1981   BOBCOL
Other Major Kennel Achievements
Golden Sprint  –  Romford             1987   AULTON  HENRI
Trafalgar Cup  –  Wembley            1992   GARA  PAINT
Puppy Derby  –  Peterborough     1997   LENSON  BILLY
Essex Vase  –  Romford                 1997   LENSON  BILLY
Gold Collar  –  Catford                    1997   LENSON  BILLY
Puppy Derby  –  Wimbledon         1997   LENSON  HERO
The Oaks  –  Wimbledon                2002   PURLEY  QUEEN
Coronation Cup  –  Romford         2012   RATHGLASS  HERO
Puppy Cup  –  Romford                  2013   BALLYMAC MARINE 
One of the biggest achievements of Norahs career to date was when CLOHEENA CASH reached the Final of the ENGLISH DERBY in 2011.
That would of made 'Paddymac' proud!